Does GDPR Sound Like a Nightmare?


It is! 
If You're Not Compliant Today,

 You're Not
Ready For Business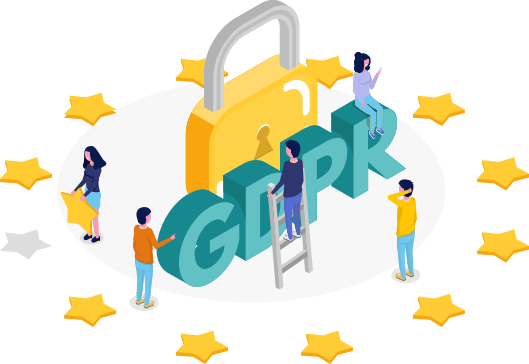 The worst (or best if you're an end-user) is that it pins liability on businesses of all sizes. Not just giants like Facebook and Google, but really small players like me and you too.
There's no escaping GDPR, we HAVE to confirm. There's NO OPTION. Not if you want to stay in business.
Everybody has to take the journey to GDPR compliance, no matter how small you are, no matter how difficult it is, and no matter how much effort it takes. If you're running a business that's online, you'll need to be GDPR compliant.
If you're doing any of the following, you need this powerful plugin:

Running a blog on WordPress with content on absolutely any topic.

Running your corporate site on WordPress blog with content pages.

Grabbing leads from your WordPress sites using any plugin or tool.

Accepting comments and messages on your WordPress site.

Running a basic E-com store on WordPress that's using standard WP features.
The Broadest
Compliance Scheme
Of All Alternatives
Compliance on 7 Key GDPR Requirements
Works with your blog or any other custom implementation of WordPress including e-com stores.
Just plug it in and set it up in less than 3 minutes for faster GDPR compliance.
Cookie requirement compliance makes sure your EU visitors are briefed about cookie policy.
Terms and conditions policy compliance gets your visitors consent to your T&C.
Privacy policy compliance creates consent requirement for your privacy policy.
Right to forget compliance lets you delete user data manually.
Or… Refuse to accept EU traffic on your site (Built in the plugin)
Select Your GDPR Compliance Version Below For Discount. When the Timer Hits Zero, The Massive Discount Will Be Gone!
WP GDPR Compliance
Elite Version
TT$
4,300. Click Button Below for Discount!
+ Cookie Consent

+ T&C Acceptance

+ Privacy Policy

+ Right To Be Forgotten

+ Data Access

+ Data Breach Notification

 Data Rectification

Option to Refuse EU Traffic

100% GDPR Compliance

 WordPress Universal

+ Support for 12 months
Thereafter, renewal will be US$200. per Annum.
WP GDPR Compliance Lifetime
Elite Version ~ ONE TIME FEE.
+ Cookie Consent

+ T&C Acceptance

+ Privacy Policy

+ Right To Be Forgotten

+ Data Access

+ Data Breach Notification

 Data Rectification

Option to Refuse EU Traffic

100% GDPR Compliance

 WordPress Universal

+ Support for product-life.
WP GDPR Compliance PRO
PRO Version
TT$
5,000. Click Button Below for Discount!
+ Cookie Consent

+ T&C Acceptance

+ Privacy Policy

+ Right To Be Forgotten

+ Data Access

+ Data Breach Notification

 Data Rectification

Option to Refuse EU Traffic

100% GDPR Compliance

 WordPress Universal

 GDPR Compliant Default Privacy Policy

 GDPR Compliant Default Terms & Conditions Policy

 GDPR Compliant Unsubscribe Feature

 GDPR Compliant Lead Grab System

 Legal Document Templates Prepared by a Certified Privacy Professional From Europe

Support for 12 months

Thereafter, renewal will be US$249. per Annum.
WP GDPR Compliance PRO Lifetime
PRO Version ~ ONE TIME FEE.
+ Cookie Consent

+ T&C Acceptance

+ Privacy Policy

+ Right To Be Forgotten

+ Data Access

+ Data Breach Notification

 Data Rectification

Option to Refuse EU Traffic

100% GDPR Compliance

 WordPress Universal

 GDPR Compliant Default Privacy Policy

 GDPR Compliant Default Terms & Conditions Policy

 GDPR Compliant Unsubscribe Feature

 GDPR Compliant Lead Grab System

 Legal Document Templates Prepared by a Certified Privacy Professional From Europe

Support for product-life
With every order of this plugin, each client goes into an order-queue. As you may imagine, there are alot of clients who would order this to secure their business from penalties. We will install the plugin for you, so please look out for our email.
Full Disclosure: We'll be honest. It is NOT enough to only install this Powerful Plugin for you to have a 100% custom implementation of WordPress or if you run a complicated piece of business that does a lot more than blogging, but it will take care of BIG CHUNKS of compliance requirements, making it easy for you to EASILY fill the rest!
IT'S NOT BRAGGING IF OUR CLIENTS THINK SO
With over twelve years of experience,
Triniversal Arts continues to be the 
entrepreneur's-choice to help their business
Profit & Succeed in any type of economy!
Copyright © 2006-2019  Triniversal Arts "Progressive Business Solutions".
All Rights Reserved.  All prices in USD.